Use the Add to Cart buttons on the right side of the Course, Jams, Channels, or Private Lesson page.
Be sure to log in to your TrueFire account first to see YOUR PRICE, which includes an available TrueFire Cash and/or All Access Discounts applied.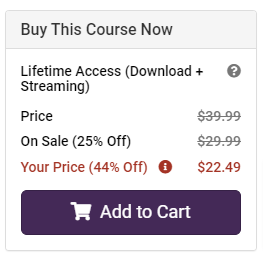 Proceed to the cart. Review your items to make sure you've got everything you want. Select Payment Method and then click Complete Your Order.
All orders placed on TrueFire.com are in US Dollars (USD), your bank may add additional fees depending on exchange rates.
Any applicable discounts, All Access Discounts or TrueFire Cash, will be applied automatically to your order in the Cart when applicable.
All Access Discount: 20% off Course(s) and Jam Items
TrueFire Cash: up to 25% off Course(s) and In the Jam(s)
Owner Discount: Owned lessons from a compilation course are deducted from the order total. i.e. You don't have to pay for lessons from other courses you already own. Simple as that!
*We reserve the right to disable All Access Discounts, TrueFire Cash, and/or Promo Codes from store-wide sales/BOGO deals per our discretion. Rest assured, you will already be getting a killer deal anytime this occurs.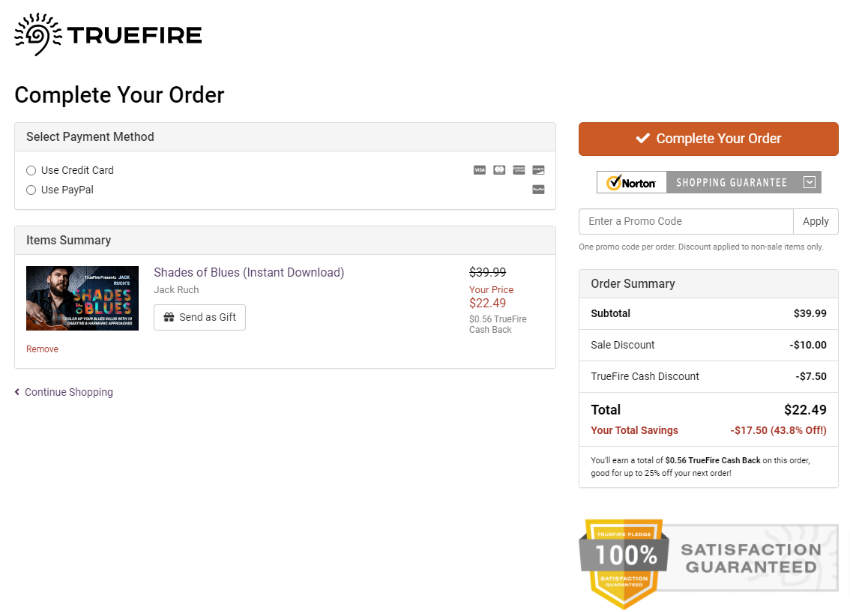 If you ordered in Instant Download version, the course can be downloaded inside the TrueFire 3 Course Player: Desktop app, iOS app, and/or Android app: Learn More