What is a TrueFire Learning Path?
Whether you're a beginner, intermediate or advanced guitar player, TrueFire's Learning Paths will take your playing to the next level with an accelerated, hands-on study plan. You'll play your way through the entire curriculum — no reading music, no boring exercises, no tedious theory to struggle through!
Who are the Learning Path instructors?
108 world-class educators deliver insightful, engaging Learning Path experiences spanning virtually every style, technique and level of play. From GRAMMY winners, to top session players, top world renowned educators, your Learning Path will be guided by the best in the biz.
How do I choose a Learning Path?
Pick a style you would like to study; blues, rock, jazz, country or acoustic. Once you have your style picked out, go to that style's learning path page.

How do I assess my current level of play?
Once you are on your learning path's page, you will be able to see all the lessons in the path. You can then go through and classify each lesson or each Core course as "Completed, In Progress, or Incomplete". As you do this you will see the results on the progress bar for those lessons and that Core course. This will help you assess what you need to work on to fill in the gaps and complete a certain Core course, and also show you where to go next.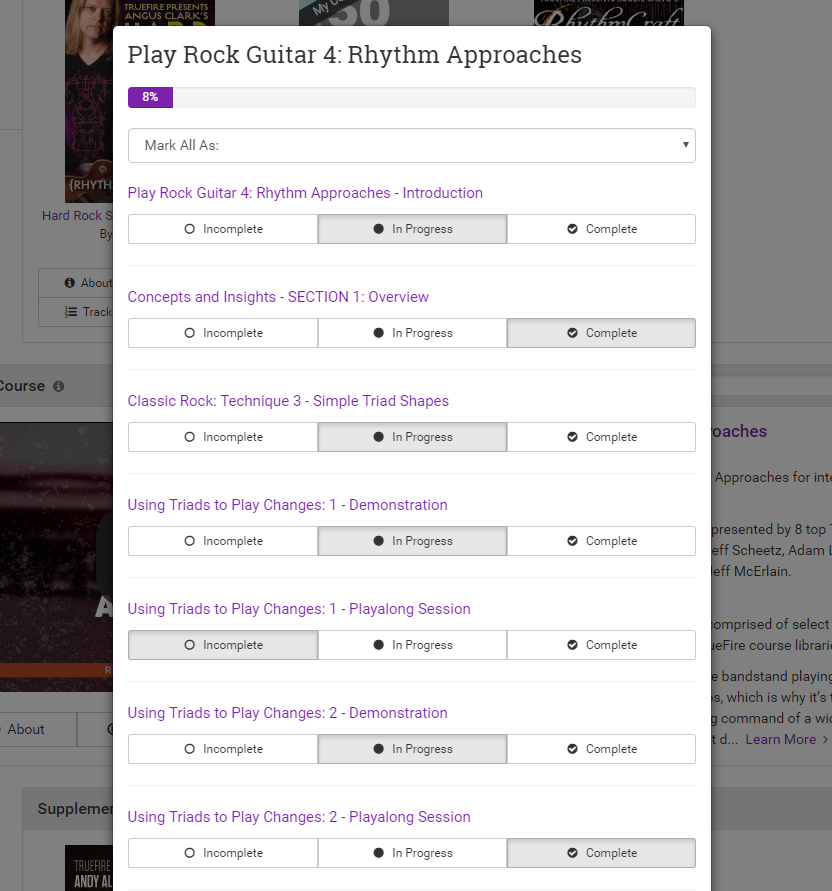 How do I personalize my Learning Path?
The Learning Path system will first help you assess your current level of play, and then present you with a personalized curriculum of video lessons presented by TrueFire's world-class guitar educators. Go to the How To Personalize guide.
Do I need to read music?
No reading music, no boring exercises, and no tedious theory to struggle through -- you will play your way through the entire Learning Path.
Do I have to follow the order of the lessons?
No. Feel free to jump around from one Core Course to another. The most important thing is keeping track of your progress as you using the Progress Tracking Tool and getting as close to 100% completion as possible with each core course in your Learning Path.
What are Supplementary Courses?
The main curriculum of the Learning Paths consists of the "Core" courses. However, each Core course has a series of Supplementary courses that allow you to go deeper and wider into the material covered in the Core course. Sometimes you need a little extra work on a subject in the Core course, and that is where the Supplementary courses come into play. Start with the Core course, and then check out the Supplementary courses for even more great related lessons to dig into.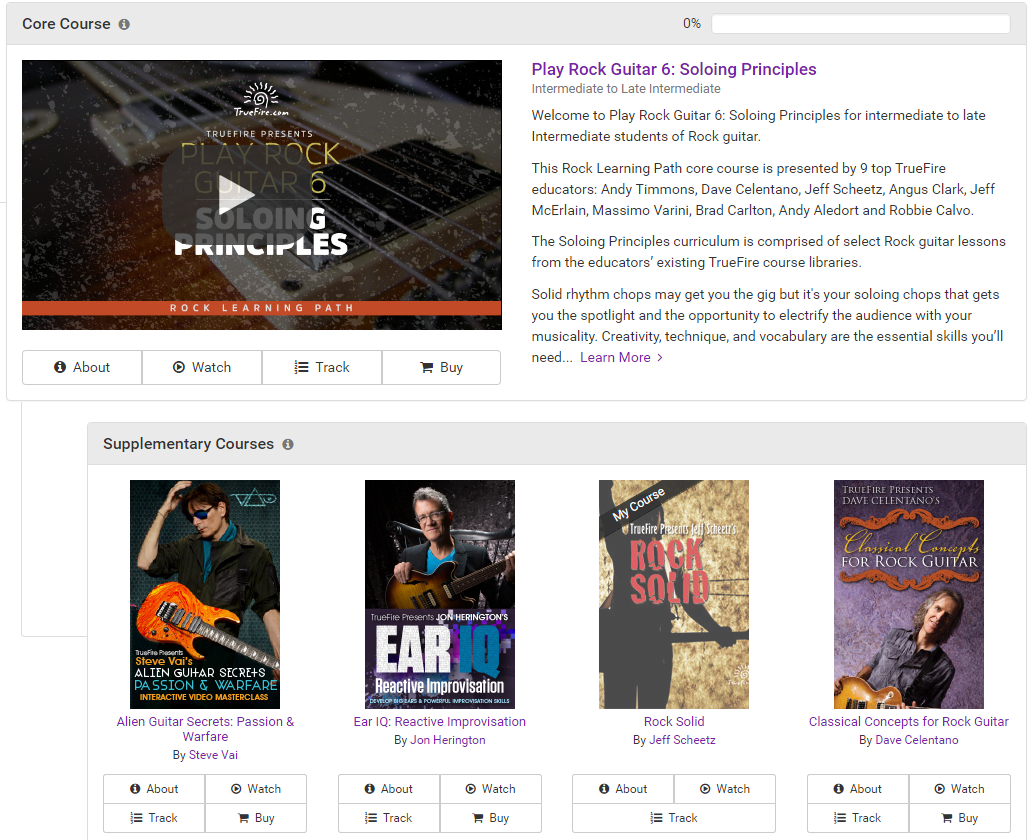 Are Learning Paths a method?
Yes and no. Learning Paths are not a method per se, rather they're a roadmap of the skills and techniques that you should be working on to advance to the next level. We encourage you to enhance your Learning Path studies by learning from as many other educational sources as possible. Go out and play or jam as much as possible. Learn hundreds of songs. Pick up what you can from other players. Get private lessons. Scour the Internet for information and videos. Experiment on your own.
How do I practice my Learning Path Lessons?
Our lessons are presented in easy-to-digest, bite-sized chunks so that you'll never feel overwhelmed or frustrated. Unlike other learning methods that show you something and then send you off to practice on your own, our unique playalong practice sessions guide your practice every step of the way. Plus, you'll be able to apply everything you learn with our practice band tracks so you can hear how your guitar parts sound with a band. Our accelerated, hands-on method is specifically designed to get you up and running quickly and painlessly.
How do Learning Paths work for All Access students?
Learning Paths integrate perfectly for All Access student. All the core courses and supplementary courses are accessible online to stream from any web browser, from the iOS app (iPhone/iPad), from the Android app or Apple TV app. Simply click Watch Now any course and dig right in!
How was the material for the Learning Path Core Courses created?
Our Learning Path core courses are composed of both new and existing content.
The two beginner Learn Guitar courses and each Learning Path's 1, 2,& 3 core course(s) consists of brand new course material created by TrueFire's top educators from each genre.

Learn Guitar: First Steps
Learn Guitar: Next Steps
1: Quick Start Guide for Beginners
2: Rhythm & Lead Fundamentals
3: Tools & Techniques

The intermediate to advanced Core courses 4-10 are comprised of select guitar lessons from the educators' existing TrueFire course libraries.
What formats are the Learning Path Courses delivered in?
All Learning Path courses are available to stream online through the browser, available to purchase as instant download, and accessible in the iOS app, Android app and Apple TV app.
At this time, only the Learn Guitar: First Steps, Learn Guitar: Next Steps and each Learning Path genre's Core course 1-3 will be available as software discs + download.
What if I already OWN some of the material in a learning path?
Learning Path's intermediate to advanced Core courses 4-10 are comprised of select guitar lessons from the educators' existing TrueFire course libraries… which means you may already own some of the content within each course.
We will take "Owned" content into account and discount that amount from the overall purchase amount un the cart. It will happen automatically for you when you add the item to the cart.