Join Free & Get 14 Day All Access Trial
The first thing you'll want to do is sign up for a TrueFire membership. You can join for free and get 14 days of All Access (as well as some other great perks).
No credit card is required. This is a forever free account - you are NOT automatically upgraded at the end of your free 14-day trial.
The All Access trial is available to stream on the website through your browser and within the TrueFire iOS app, Android app, and our computer app, TrueFire 3.
Get a Personalized Recommendation
After you've signed up, fill out the My Musician Profile to see specific courses based on your skill level and preference of play.

You can also jump straight to "Courses" to search for the genre or level of lessons you wish to learn. We have bass guitar and drums material too.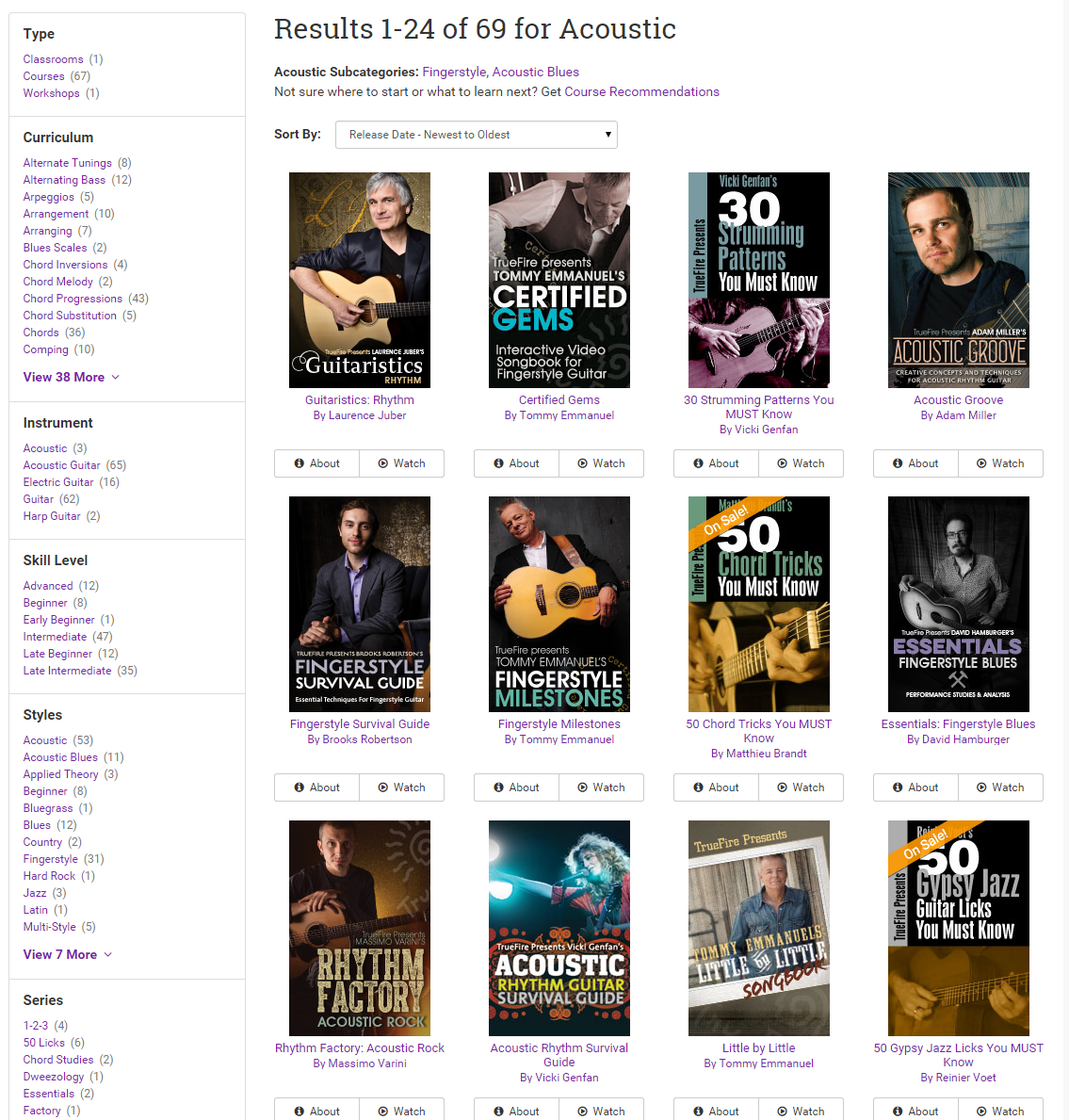 Choose a Course
A course is a full study program complete with video guitar lessons, tab and notation charts, jam tracks, and text commentary from the instructor. Each of our courses contains a different curriculum, so you'll want to see what it's all about by reading the full description page and checking out the course introduction video.
You can also jump right to the videos by clicking

on the style and skill level pages or the "Play" button on the full description pages.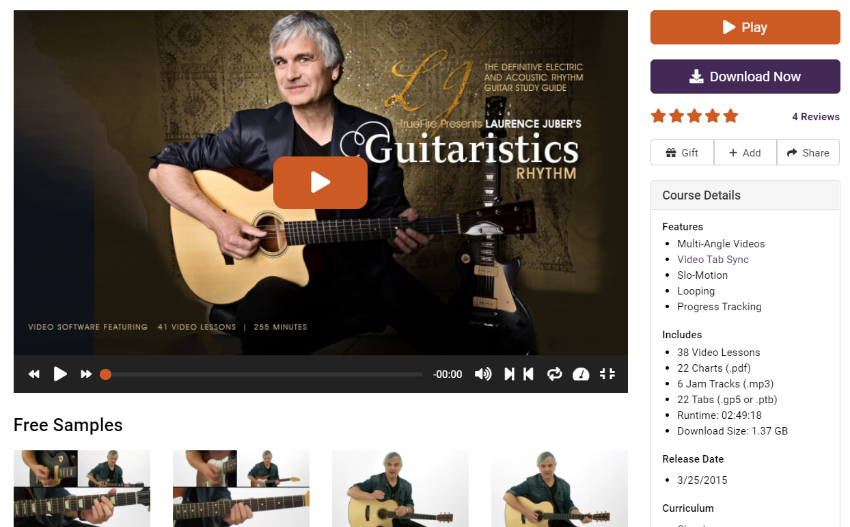 During your free 14 day All Access trial, you will be able to stream our entire course library online. Once the trial has ended, you'll still be able to view full-length sample video lessons from each course or upgrade to All Access membership to continue your streaming access.
Working with a Course: Instant Download or All Access Streaming
Next, you have to decide how you want to work with the content. You have 2 choices:
Buy Course(s): Instant Download
Purchase a course individually and download it immediately to your computer. If you choose this option, you have the ability to work with the course offline in our Desktop app, iOS app, and/or Android app. You will get access to all the course files including the videos, charts, jam tracks, and text commentaries.
TrueFire 3 desktop app (windows/mac) sample


Courses are now iOS compatible with the TrueFire app (iPhone, iPad, iTouch), Apple TV App, and Android app.
Upgrade to an All Access Plan
Upgrade to the All Access Plan and get full access to all our courses via our streaming video platform through the browser and in the TrueFire iOS app, Android App, and on Apple TV.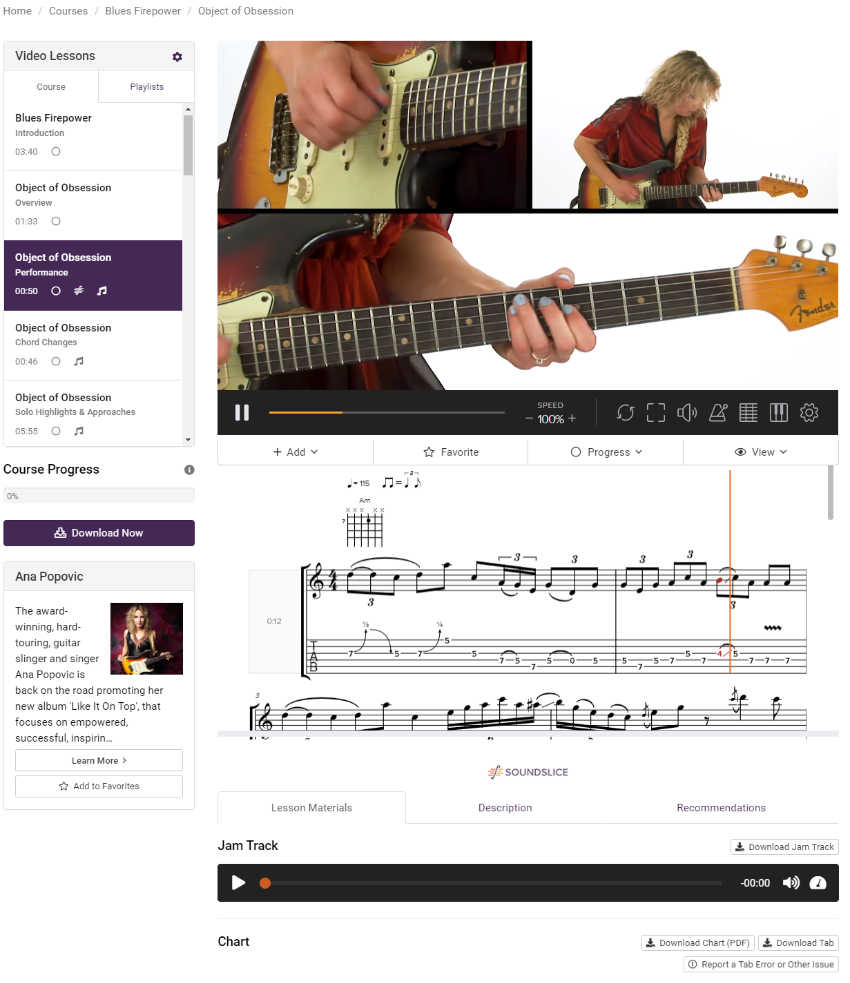 Work One-on-One with a TrueFire Instructor
If you really want to take your playing to the next level, we offer Private Lessons: Individual and Ongoing.
Private Lessons: Individual or Ongoing
Take your playing to the next level with private online guitar lessons from one or more of TrueFire's top educators who specialize in the learning methods and techniques of your preferred style. Bass, banjo, ukulele, dobro, and drums private lessons too!
Choose your instructor for an individual private guitar lesson or ongoing lessons and then interact privately with your instructor using TrueFire's patented learning tools and iOS app for video messaging, discussion threads, lesson plans, tab, notation, jam tracks, and charts.
TrueFire's shift-time private lessons overcome all of the complications usually associated with online private guitar lessons. No scheduling hassles, connectivity issues, time constraints, or performance pressures with TrueFire online private guitar lessons!
Learn at your own pace, on your own schedule, and accelerate your studies with the best educators in the biz!
Individual Private Lessons
Tap into the expertise of one or more TrueFire educators anytime! Take advantage of individual lessons to ask questions about an educator's course, focus on a specific topic or technique. You can also have an educator assess your playing, give you feedback, and provide material to work with on your own.
Ongoing Private Lessons
Take your musicality to the next level with private online lessons and consultations from one or more of TrueFire's top educators who specialize in all styles and levels of acoustic and electric guitar, bass, banjo, ukulele, dobro, songwriting, and more!